Blenheim's only 5-star hotel, Chateau Marlborough, is well underway with their new expansion project.
With valuable input from Remac Consulting, the whole resource consent process was managed smoothly, allowing construction to begin on schedule.  The Autumn 2016 issue of Accom Management Guide details Remac Consulting's involvement and challenges faced:
There were two major challenges with the consent application process, said Remac director, Ed Chapman-Cohen.  "One was proving that the additional traffic and parking demands would have no more than minor effects on other road users and neighbours.  This required expert assessment by Traffic Design Group and some reconfiguration of parking layout and vehicle access.
Another challenge was obtaining written affected party approval from eight adjacent property owners, two of which were large national companies with signing authority offices located outside Blenheim.  While none were vehemently opposed, obtaining their written approval required significant time and effort.  The excellent plans and concept images provided by Ian Krause Architects were very helpful in that process," said Mr Chapman-Cohen.
"Ultimately the application was successful and granted in reasonable time, allowing Brent Marshall and his team to move onto the building consent and construction, which began on schedule.  It's satisfying for the Remac team to see the development taking shape, knowing that the expansion will help meet the demand for this type accommodation in Blenheim and benefit the wider Marlborough tourism sector."
– Accom Management Guide
A further article by The Marlborough Express explains what an asset the new expansion will be to the Marlborough region.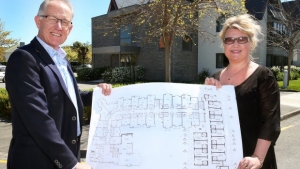 A three-storey wing added to the southern half of the hotel bordering Charles St will add 36 double and single suites when construction is completed in October next year.
Chateau Marlborough managing director Brent Marshall said it was the biggest hotel expansion in Marlborough.
The development of Marlborough Airport, the new ASB Theatre and growth in the Marlborough Convention Centre demanded more accommodation in Blenheim, Marshall said.
"The global financial crisis and the Christchurch earthquakes delayed any thought of expansion.
"You don't build a church just for Easter Sunday. The amount of capital investment in the hotel requires a good return of investment and we are confident we will get that."
Chateau Marlborough's back office space, along with the bar and commercial kitchen, would also be expanded.
The restaurant would be "uniquely New Zealand" with food and beverages sourced from Marlborough, Marshall said.
General manager Lynley McKinnon said corporate markets and conferencing were their targets.
"From now until Easter we could sell our rooms three times over. 
"Any development as large as this makes people feel the economy is heading in the right direction."
More visitors would in turn spend more in retail, restaurants and activities in Marlborough, McKinnon said.
– The Marlborough Express
Click here to view the full Marlborough Express article.